Register for 2022/2023 Co-op classes
LAF Junior Co-op is open to Pre-K through 5th grade students and their younger siblings. It meets on Tuesdays or Thursdays from 8:45am – 12:30pm, September through April.
The LAF Junior Co-op offers programs for
Babies
Crawlers and Toddlers
Preschoolers
Kindergarteners
Elementary Aged Students (K – 5)
LAF Junior Co-op is a cooperative learning opportunity that requires parents of all students to remain on campus throughout the Junior Co-op program and serve in their assigned Service Roles. Parents will not be asked to prepare lesson plans or lead classes. Our paid facilitators do all of that! But parents do help in the classrooms, hallways, gym, concession stand, coffee shop, welcome table, and wherever else is needed.
At least one parent or adult family representative from each family enrolled in LAF Junior Co-op is required to remain on campus serving in their assigned area during all of Junior Co-op. That means parents cannot send their child to Co-op under the guardianship of another Junior Co-op parent or guardian or family already in attendance. If a parent or guardian is not present with a child, the child will not be permitted to attend Co-op that day.
Junior Co-op is a supplemental educational opportunity for families. Families are welcome to participate at whatever level works best for their family. There are no attendance requirements or required homework. All assignments are optional and can be done at the discretion of each individual family.
It all starts at Orientation
At least one parent is required to attend the LAF Co-op orientation. Here you will meet the leadership of Learning and Families, hand in important paperwork, pay any remaining balances, and learn what you can expect in the coming year. You will also receive training for your assigned Service Role.
You will receive an email prior to the orientation with any paperwork that needs to be filled out and submitted, along with detailed instructions on how to prepare for orientation and what to expect. 
Date: Monday, August 8, 2022
Time: 6:00 PM
Location: Sarasota Alliance Church, 7221 Bee Ridge Rd., Sarasota
Junior Co-op families will attend a Practice Day the week before Co-op starts so they can practice going to Co-op! 
Junior Co-op is a great way to enrich your homeschool journey, but it can also be overwhelming to families when they first begin. The practice day will help families get acclimated to Co-op and feel confident when they arrive on the first day. Even families who have participated for many years will benefit from meeting their new facilitators and pod parents.
We require all Junior Co-op families to attend the Practice Day.
Students will meet their facilitators and pod parents, who will help them navigate Co-op. They will sit through a morning assembly, practice walking up to their first class, find out where to put their belongings, and then practice transitioning to breaks and other classes. They can visit the bathrooms and water fountains so they feel more confident, and they can practice getting picked up by a parent at the end of the day. 
This entire day is much shorter than a typical Co-op day, but it will give your Junior Co-op student confidence for the start of the year!
Date: Tuesday, August 30, 2022
Time: 10:00 AM 
Location: Sarasota Alliance Church, 7221 Bee Ridge Rd., Sarasota
It's important to know that while Learning and Families welcomes all families, we teach from a Young-Earth-Creationist perspective. To view our Statement of Faith, click on the link below.
What to Expect on a Junior Co-Op Day​
Nursery through 5th-grade students attend junior Co-op, which meets either Tuesdays or Thursdays, 8:45 am -12:30 pm. 
When students arrive at 8:45 am, each family sits together in the gym for a brief morning assembly, which includes prayer, the Pledge of Allegiance, and announcements. After this, students are released to their first class, one grade level at a time. 
Parents walk younger siblings directly to their nursery class before going to their volunteer position. Pre-K through 5th-grade students are escorted to class by their respective pod parents.
Each class is organized by students' age. Within the class, there are smaller groups called pods. Each pod of four to five students has a specific pod parent responsible for helping them, managing behavior, and escorting them to bathroom breaks. Pod parents are responsible for their individual pod but also work together to take care of the entire class. Between each class in the k-5 program, students have a short snack/play break. Pre-K and Kindergarten classes have snack time in the classroom.
At 12:30, when Co-op is finished for the day, parents pick up their students from their classrooms. We do offer the opportunity for families to purchase pizza for lunch if they would like, and families are welcome to join others at Rothenbach Park (on the east end of Bee Ridge Rd) every Tuesday and Thursday, immediately following co-op, if they wish.
Below is our list of Junior Co-op programs for the 2022/2023 school year, along with a description of what is offered in each program and the costs for each.
Please note that our K – 3 Program and our 3 – 5 Program are not a la cart programs. Classes included in each program are listed below the general program information, including information about the facilitators and materials/curriculum to be used.
Click here
to meet our 2022/2023 Junior Co-op Facilitators.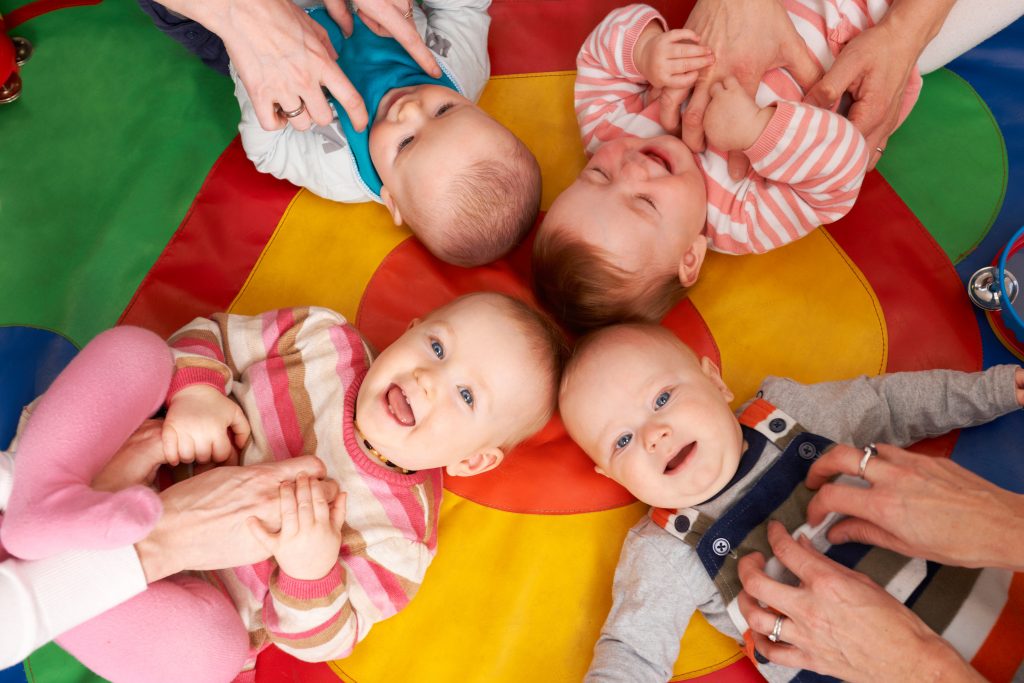 Infant Nursery

Fee: $60
Birth through Age 1
The Nursery is a low-key room where babies from birth through age 1 can sleep, play, be rocked, held, or given whatever else they need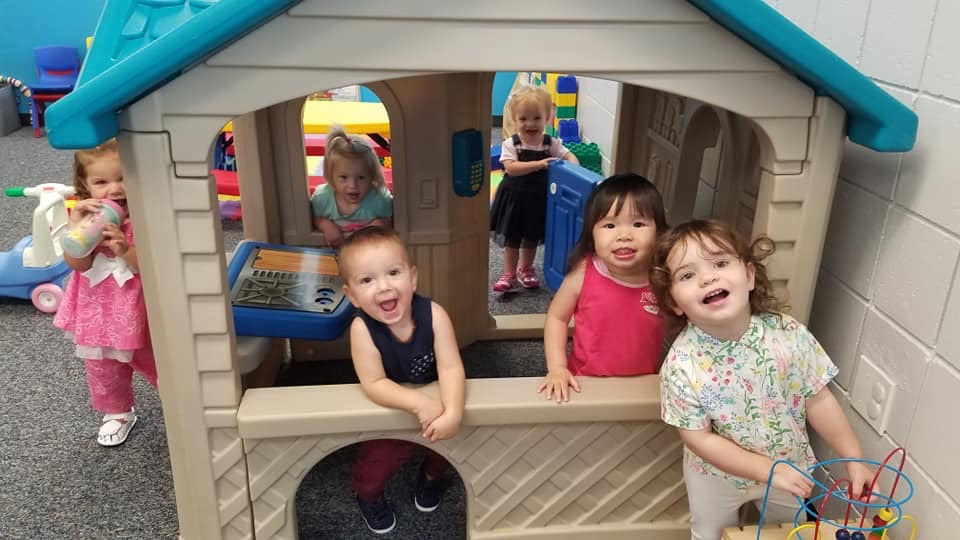 2-3 Year Old Nursery
Facilitator: TBA

Fee: $60
Ages 2 – 3
The 2-3 year old Nursery is open-play classroom with lots of toys and books. The class will spend most of the day playing freely. However, they will have a snack time and may have a group storytime, sing songs together, and play outside from time to time.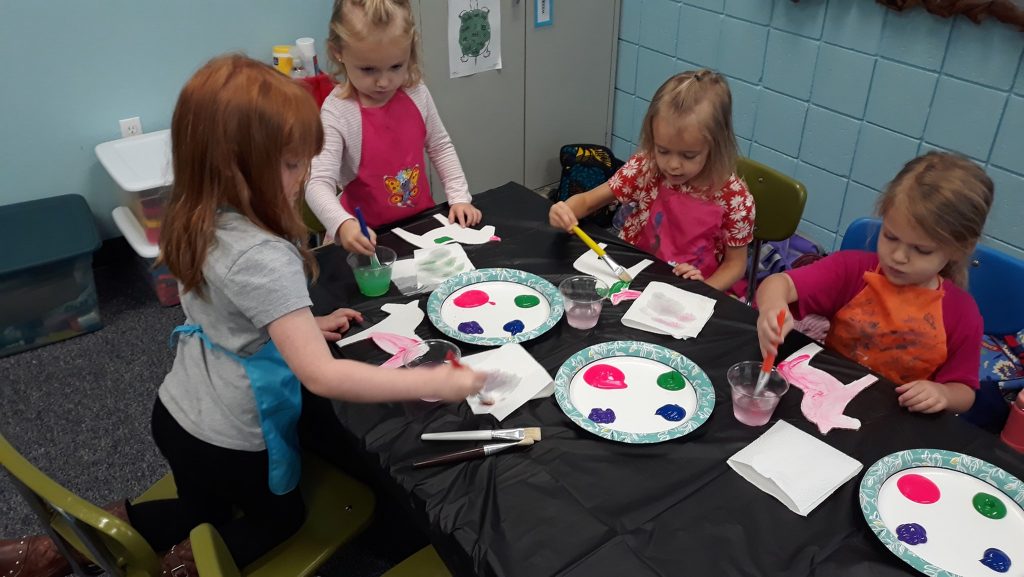 Pre-K
Tuesday Facilitator: Allana Williams
Thursday Facilitator: Wendy Coffey
Tuition: $245 plus $30 lab fee
Ages 3-5
Pre-K students are all potty trained and can communicate clearly. In this class, preschoolers work on basic learning skills such as color, shape, letter, and number recognition, character building and social skills, as well as hands-on, interactive activities indoors and outdoors throughout the day.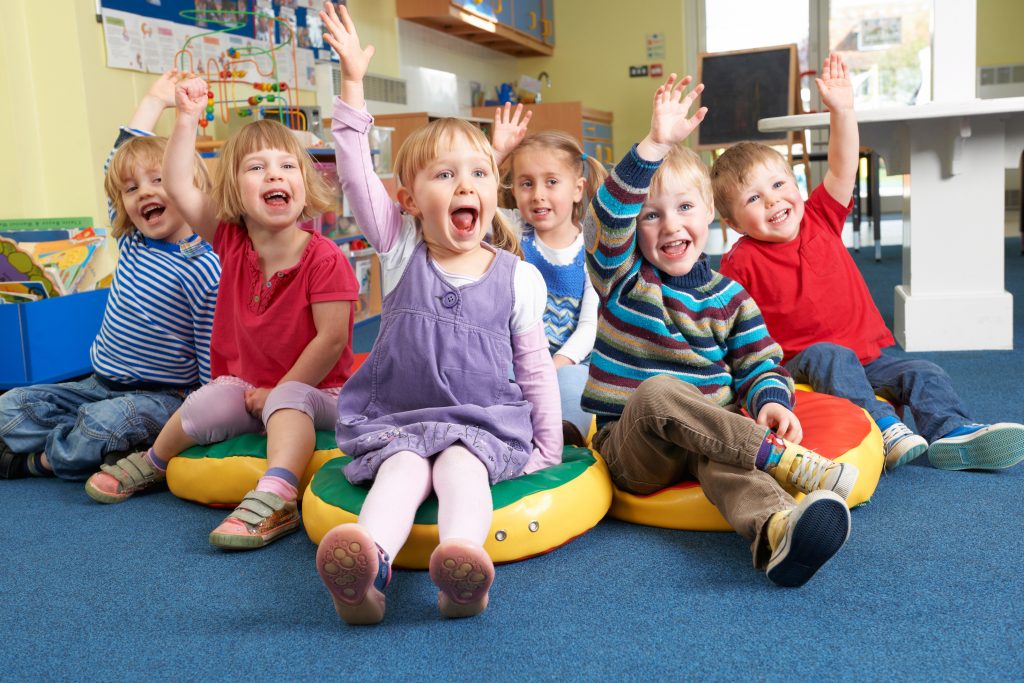 Self-Contained Kindergarten
Tuesday Facilitator: Leah Genheimer

Thursday Facilitator: Vanessa Santos
Tuition: $245 plus $30 lab fees
Ages 4 – 6
This class will help prepare students for a more focused and formal learning environment. These students will do many of the hands-on science experiments that students in the K – 5 Program are also doing but will spend more time focusing on both academic and social skill-building to help prepare students for the more focused learning environment of the K – 3 Program.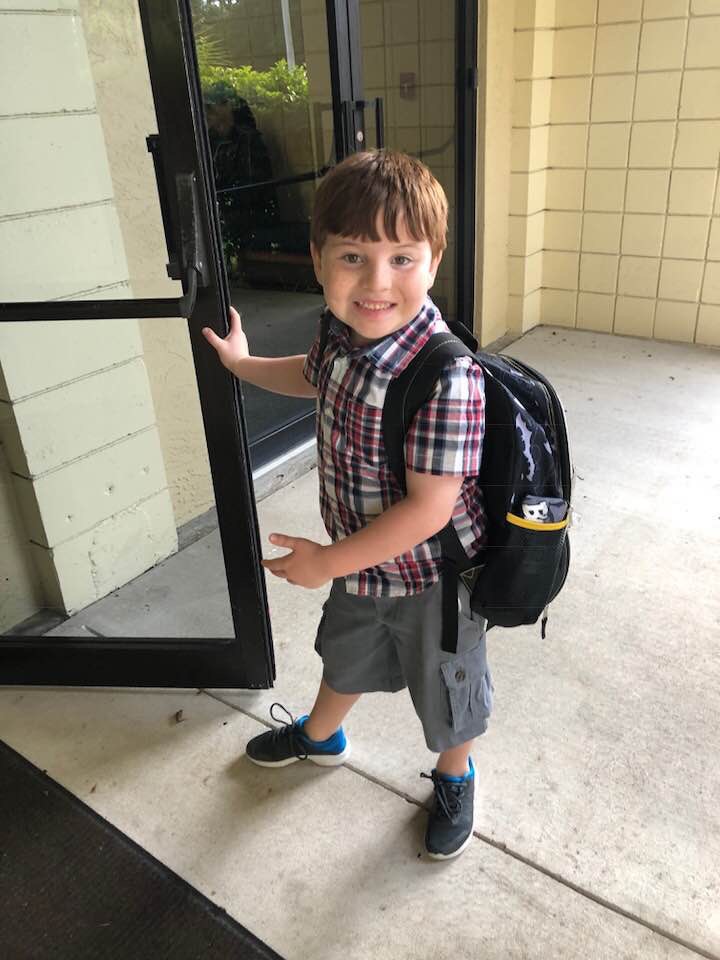 K – 3 Program 
Tuition: $245 plus $50 lab fee per student
Must be at least 5 years old by September 1, 2022
Kindergarten-aged students who meet the age requirement and are ready for a formal academic program can choose this option.
Third graders who are not quite ready for the rigors of the literature program can choose this option.
See below for specific class descriptions: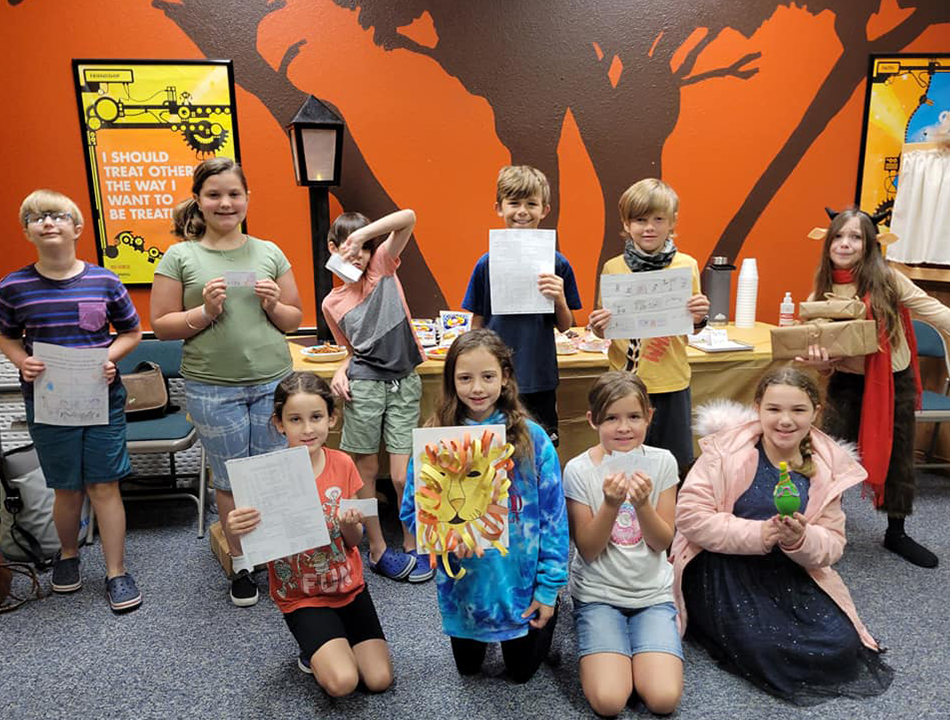 Tuition: $245 plus $50 lab fee per student
Third graders who are stronger readers and ready for a more challenging academic program can choose this option.
See below for specific class descriptions:
K – 3 Science — Apologia Flying Creatures
Facilitator: Jamie Sciesinski
In this God-honoring study of birds, your child learns about the glorious design and characteristics of flying creatures, including physical characteristics, nesting habits, flight patterns, and more! Your children will learn how to attract various bird species to your yard and identify them by looking at their special physical characteristics, diverse nests, and interesting domestic practices.
Students in this program will use the companion JUNIOR Notebooking Journal.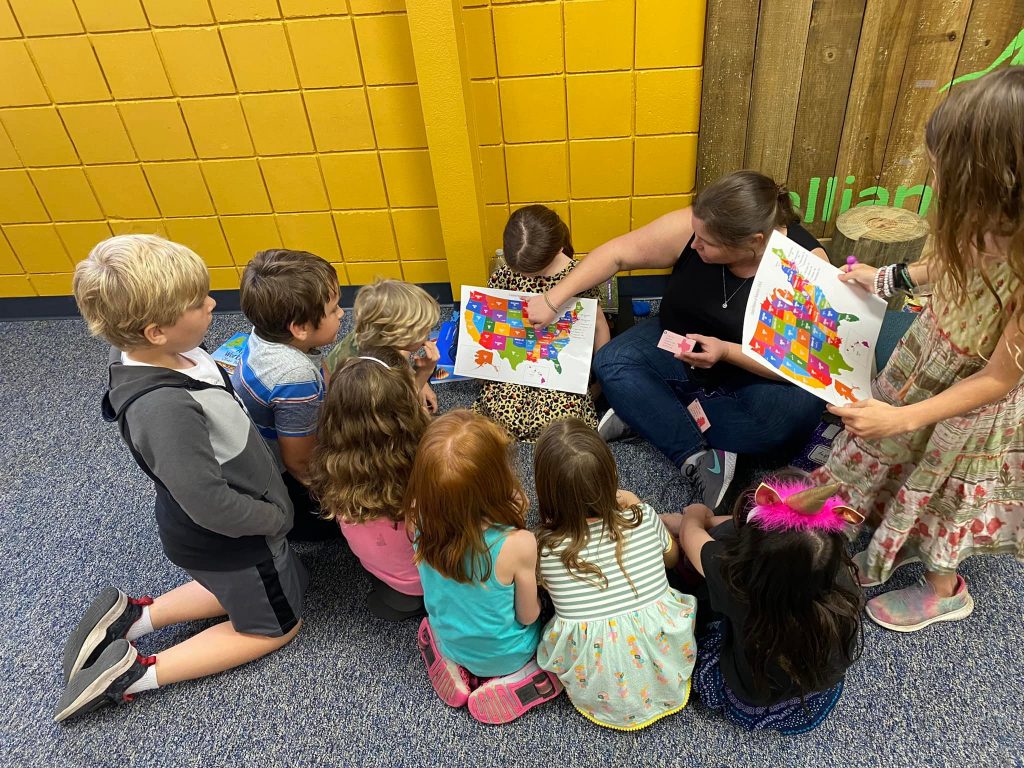 K – 3 Inventions & Ideas (Unit Studies with Gather Round)
Facilitator: Brandi McNulty
Students will be learning about the ideas that have changed our world, patents, and creating their own invention throughout the month. They will also be learning about messages that are all around us, how to take our thoughts captive and test what we hear with the Word of God. In our final week, students will be using what they learned about messages to either design an ad or record a commercial advertising their invention. 
Click here for curriculum. Students in this program can choose either the Early Reader, or the Early Elementary student book. Digital or physical copy. If you choose digital, you will need to print and bind.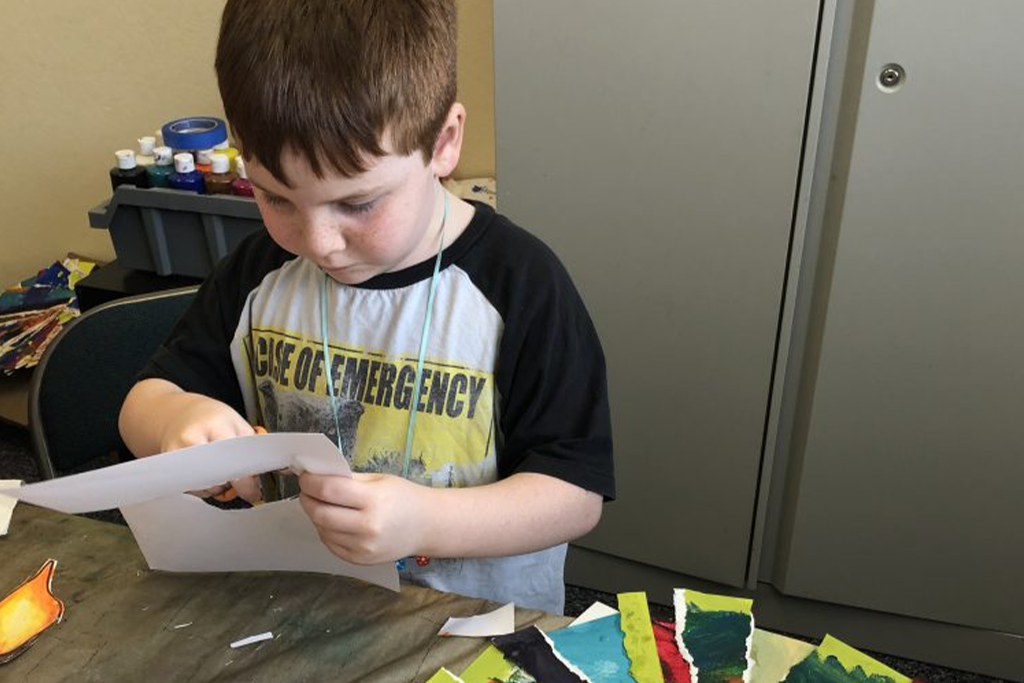 K – 3 Art 
Facilitator: Crystal Yannucciello
Explore Art through weekly Artist study and art technique in a fun and fresh hands-on atmosphere.
3 – 5 Science — Apologia Flying Creatures
Facilitator: Dionne Chang 
Exploring Creation with Zoology 1: Flying Creatures of the Fifth Day by Jeannie Fulbright published by the Apologia Company is the first course of study in their Young Explorers Series.
Students will be immersed in the amazing study of birds, bats, insects, and pterosaurs. They will glean basic knowledge of flight, organism identification, nesting habits, migration, echolocation, and life cycles…just to name a few. 
Students will be asked to prepare a short oral presentation every other week on animal of their choice corresponding with the current lesson being studied. The use of diagrams and videos for educational support will also be implemented throughout the year. 
The Notebooking Journal will also be utilized for weekly homework assignments.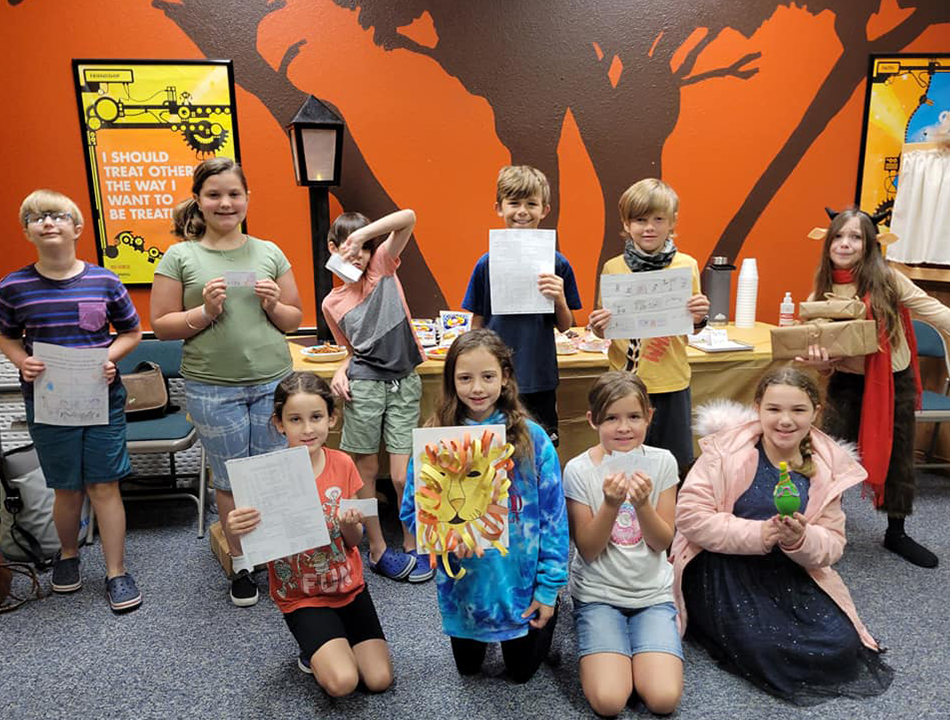 3 – 5 Literature 
Facilitator: Jessica Falde
Exciting literature study of Award-winning books in a book club-style setting with a monthly book to read, discussions, and presentation opportunities. Explore different writing styles with some writing instruction each month.
September: Charlie and the Chocolate Factory, by Roald Dahl
October: Ribsey, by Beverly Clearly
November: Room One: A Mystery or Two, by Andrew Clements
December: Biography of Choice
January: Hatchet, by Gary Paulsen
February: The Voyage of the Dawn Treader, by C.S. Lewis
March: Number the Stars, by Lois Lowry
April: Hate That Cat, by Sharon Creech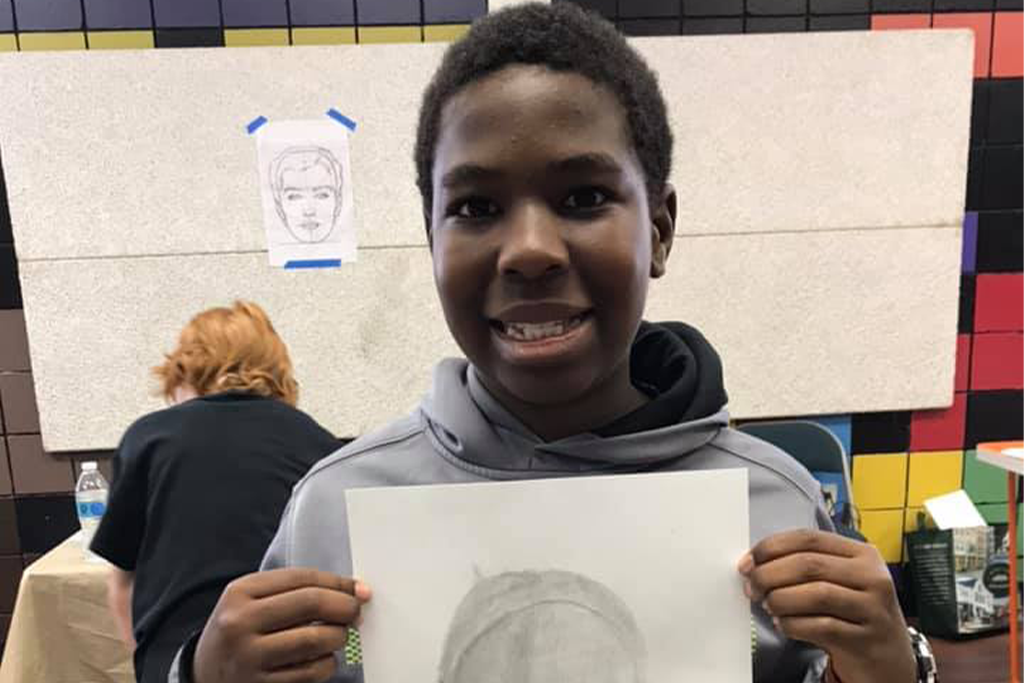 3 – 5 Art 
Facilitator: Olga Spitza
Explore Art through weekly Artist study and art technique in a fun and fresh hands-on atmosphere.
ALL SPORTS PHYSICAL EDUCATION WITH FCA
Coach: Phil Dante
Fellowship of Christian Athletes (FCA) is dedicated to making disciples through a strategy of engaging, equipping, and empowering coaches and athletes to know and grow in Christ and lead others to do the same.
We are so very blessed to have one of our own LAF dads, who is also the Community Representative for FCA here in Gulf Coast Florida, offering our community a brand new All Sports Physical Education program for kids ages 6 – 11.
This Physical Education program focuses on Fitness, Fun, and Friendship to build strong Character and Teamwork in youth. 
There will be a 10-minute FCA Huddle at the end of each class with a fun mixer game and short devotional. Parents are invited to come and participate in this time. 
Date/Time: Tuesdays, 1:00 pm – 2:00 pm  (beginning 9/6/22)
Location: Sarasota Alliance Church Gymnasium
2022/23 Junior Co-Op Supply List
Below are two supply lists for you for 2022/23 school year. The first is the COMMUNITY SUPPLY LIST. To figure out what you are responsible for purchasing and contributing to the LAF community, find the grade level for each of your children who are registered for Junior Co-op. If you're unsure what grade level to choose, go by where he/she would be placed in public school.
Bring these supplies to the LAF Parent Co-op Orientation on Monday, August 8, 2022  at 6:00 p.m. at Sarasota Alliance Church, 7221 Bee Ridge Rd, Sarasota.
The second list is the PERSONAL SUPPLIES that your student will need to bring on the first day of Co-op. Be sure personal supplies are clearly labeled with your child's name.
Grade (age) Level
Supplies To Bring
Nursery: Birth -- Age 3 (not in pre-K class)
Pre K

Baby Wipes
One Pack White Card Stock

Kindergarteners (in K - 3 Program & Self contained)

Art Paper: Multimedia Canson XL Mixed Media 9 x12, 60 sheets, 98 lb
Glue Sticks (4 pack)
Rubber Cement

1st Grade

Heavy Duty flat plastic plates (not sectioned)
Multimedia Canson XL Mixed Media 9 x12, 60 sheets, 98 lb
Glue Sticks (4 pack)

2nd Grade

Paper Towel
Heavy Duty flat plastic plates (not sectioned)
Art Paper: Canson XL Watercolor 9 x12, 30 sheets, 140 lb
Elmer's glue

3rd Grade

Glue Sticks (4 pack)
Art Paper: Canson XL Watercolor 9 x12, 30 sheets, 140 lb
Paper plates
Elmer's glue

4th Grade

Clorox Wipes
Canson XL multimedia oil and acrylic pad 9 x12, 24 sheets, 136 lb
Pack of mini hot glue sticks

5th Grade

Canson XL multimedia oil and acrylic pad 9 x12, 24 sheets, 136 lb
Clear Tape
One pair adult-size scissors
Grade (age) Level
Supplies To Bring
EVERY STUDENT

Back pack
Snack and water bottle

Pre-K Students

2" white 3 ring binder with presentation view (plastic sleeve on outside)
50 Pack Secure Locking Clear Sheet Protectors (fits 8.5 x 11 paper)
Give the following items to facilitator:

At least 10 glue sticks
Assorted stickers
Pack of Bubble Wands
Sidewalk chalk

Self-Contained Kindergarten Students

Supply Fee (see facilitator for details)
Apologia Exploring Creation with Zoology 1: Flying Creatures of the 5th Day TEXTBOOK (recommended)
Please view the wishlist for this class and consider purchasing one or two items

Inventions and Ideas (K - 3 unit studies with Gather Round) Students

Inventions and Ideas (Gather Round)
Erasable Colored Pencils
$10 fee (submit directly to facilitator)

Literature 3 - 5 Students

1.5" 3-Ring Binder (to share with Science class as well)
Pencils and pens
3 x 5 index cards (lined or unlined)
Storage box or ring




A copy of each book:
September: Charlie and the Chocolate Factory, by Roald Dahl
October: Ribsey, by Beverly Clearly
November: Room One: A Mystery or Two, by Andrew Clements
December: Biography of Choice
January: Hatchet, by Gary Paulsen
February: The Voyage of the Dawn Treader, by C.S. Lewis
March: Number the Stars, by Lois Lowry
April: Hate That Cat, by Sharon Creech


Science (K - 3) Students

Apologia Exploring Creation with Zoology 1: Flying Creatures of the 5th Day TEXTBOOK (1 per Family)
Apologia Exploring Creation with Zoology 1: Flying Creatures of the 5th Day JUNIOR Notebooking Journal
1-inch three ring binder
3 sharpened Pencils
1 Box of Colored Pencils
2 glue sticks
1 scissor
1 foam board for end of the year project
1 toilet paper roll (empty) due 9/13 & 9/15
1 small bag of individually-wrapped candy (like Halloween candy)
$2 Donation for Pigeon Dissection due 10/11 & 10/13

Science (3 - 5) Students

Apologia Exploring Creation with Zoology 1: Flying Creatures of the 5th Day TEXTBOOK (1 per Family)
Apologia Exploring Creation with Zoology 1: Flying Creatures Notebooking Journal
3-Prong Folder labeled "Field Guide- Bird Life List"
3- Sharpened Pencils
Colored Pencils
2 Glue Sticks
Scissors
Empty Cereal Box (Due Tue 9/6-Th 9/8)
1 small bag of individually-wrapped candy (like Halloween candy)
$2 Donation for Pigeon Dissection (Due by Tue 10/11 or TH 10/13)

Art (K - 5) Students

Accordion file holder
Assorted yarn (looking for a wide range of thickness, colors, and styles)
Performing Arts Opportunities
Junior Co-Op Facilitators