LAF Junior Co-op is open to Pre-K through 5th grade students and their younger siblings. It meets on Tuesdays or Thursdays from 8:45am – 12:30pm, September through April.
The LAF Junior Co-op offers programs for
Babies
Crawlers and Toddlers
Preschoolers
Kindergarteners
Elementary Aged Students (K – 5)
LAF Junior Co-op is a cooperative learning opportunity that requires parents of all students to remain on campus throughout the Junior Co-op program and serve in their assigned Service Roles. Parents will not be asked to prepare lesson plans or lead classes. Our paid facilitators do all of that! But parents do help in the classrooms, hallways, gym, concession stand, coffee shop, welcome table, and wherever else is needed.
At least one parent or adult family representative from each family enrolled in LAF Junior Co-op is required to remain on campus serving in their assigned area during all of Junior Co-op. That means parents cannot send their child to Co-op under the guardianship of another Junior Co-op parent or guardian or family already in attendance. If a parent or guardian is not present with a child, the child will not be permitted to attend Co-op that day.
Junior Co-op is a supplemental educational opportunity for families. Families are welcome to participate at whatever level works best for their family. There are no attendance requirements or required homework. All assignments are optional and can be done at the discretion of each individual family.
It all starts at Orientation
At least one parent is required to attend the LAF Co-op orientation. Here you will meet the leadership of Learning and Families, hand in important paperwork, pay any remaining balances, and learn what you can expect in the coming year. You will also receive training for your assigned Service Role.
You will receive an email prior to the orientation with any paperwork that needs to be filled out and submitted, along with detailed instructions on how to prepare for orientation and what to expect. 
Date: Sunday, August 6 and Monday, August 7, 2023 (Families will choose one of the two)
Time: 6:00 PM
Location: Sarasota Alliance Church, 7221 Bee Ridge Rd., Sarasota
It's important to know that while Learning and Families welcomes all families, we teach from a Young-Earth-Creationist perspective. To view our Statement of Faith, click on the link below.
What to Expect on a Junior Co-Op Day​
Nursery through 5th-grade students attend Junior Co-op, which meets either Tuesdays or Thursdays, 8:45 am -12:30 pm. 
Families begin to arrive about 8:30 am. Parents drop children off in the gym at the sign that corresponds with their group, and then parents sign in at the Support Table for their service role. At 8:45 am, students begin reciting their memory verses for the Pod Parents, and just before 9:00 am, we have a brief morning assembly, which includes prayer, the Pledge of Allegiance, and announcements. After this, students are released to their first class, one group at a time. 
Parents walk younger siblings directly to their nursery class before going to their volunteer position. Pre-K through 5th-grade students are escorted to class by their respective pod parents.
Each class is organized by students' age. Within the class, there are smaller groups called pods. Each pod of four to five students has a specific pod parent responsible for helping them, managing behavior, and escorting them to bathroom breaks. Pod parents are responsible for their individual pod but also work together to take care of the entire class. Between each class in the k-5 program, students have a short snack/play break. Pre-K and Kindergarten classes have snack time in the classroom.
At 12:30, when Co-op is finished for the day, parents pick up their students from their classrooms. We do offer the opportunity for families to purchase pizza for lunch if they would like, and families are welcome to join others at Rothenbach Park (on the east end of Bee Ridge Rd) every Tuesday and Thursday, immediately following co-op, if they wish.
Below is our list of Junior Co-op programs for the 2023/2024 school year, along with a description of what is offered in each program and the costs for each.
Please note that our K – 3 Program and our 3 – 5 Program are not a la cart programs. Classes included in each program are listed below the general program information, including information about the facilitators and materials/curriculum to be used.
Click here to meet our 2023/2024 Junior Co-op Facilitators.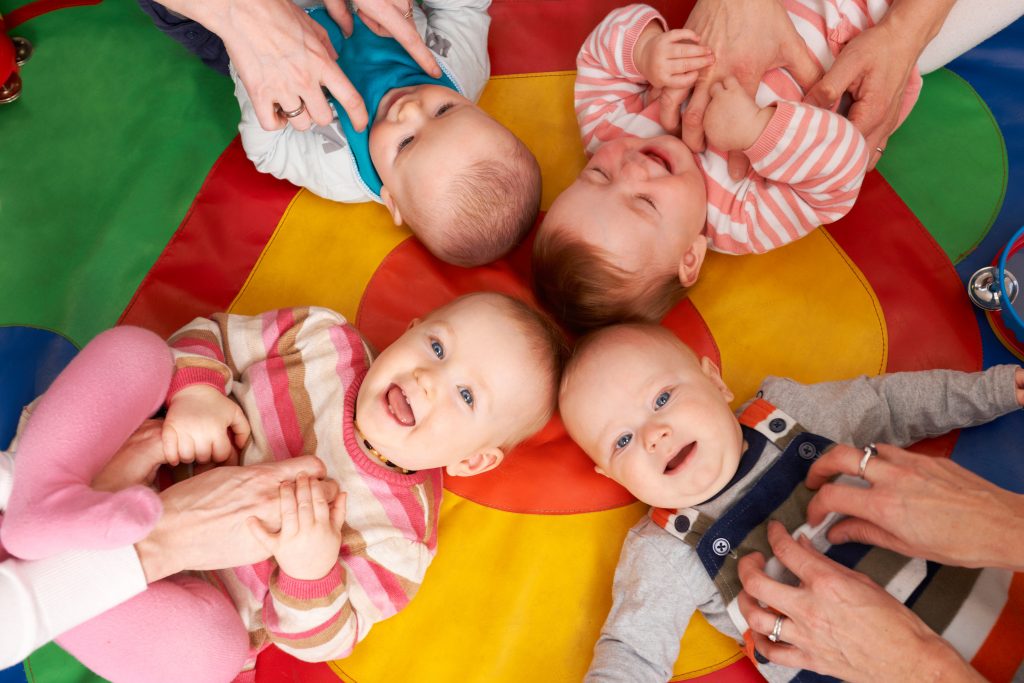 Infant Nursery

Fee: $85
Birth through Age 1
The Nursery is a low-key room where babies from birth through age 1 can sleep, play, be rocked, held, or given whatever else they need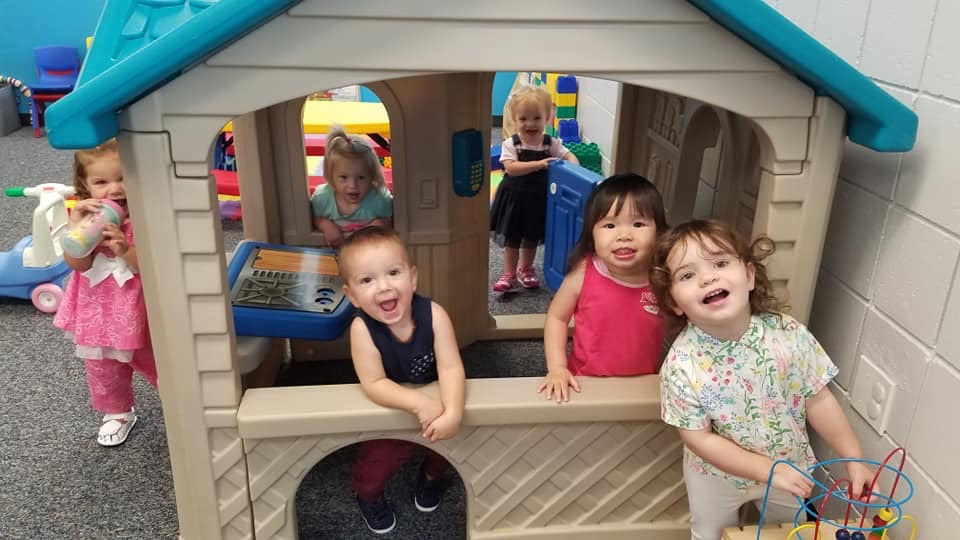 2-3 Year Old Nursery
Facilitator: TBA

Fee: $125
Ages 2 – 3
The 2-3 year old Nursery is open-play classroom with lots of toys and books. The class will spend most of the day playing freely. However, they will have a snack time and may have a group storytime, sing songs together, and play outside from time to time.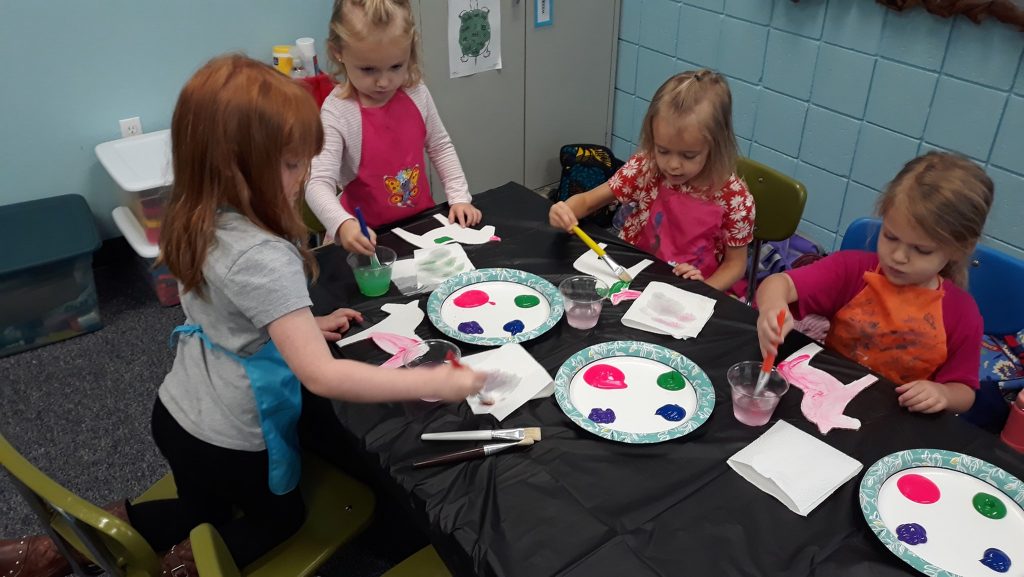 Pre-K
Tuesday Facilitator: Allana Williams
Thursday Facilitator: Wendy Coffey
Tuition: $300 plus $35 lab fee
Ages 3-5
Pre-K students are all potty trained and can communicate clearly. In this class, preschoolers work on basic learning skills such as color, shape, letter, and number recognition, character building and social skills, as well as hands-on, interactive activities indoors and outdoors throughout the day.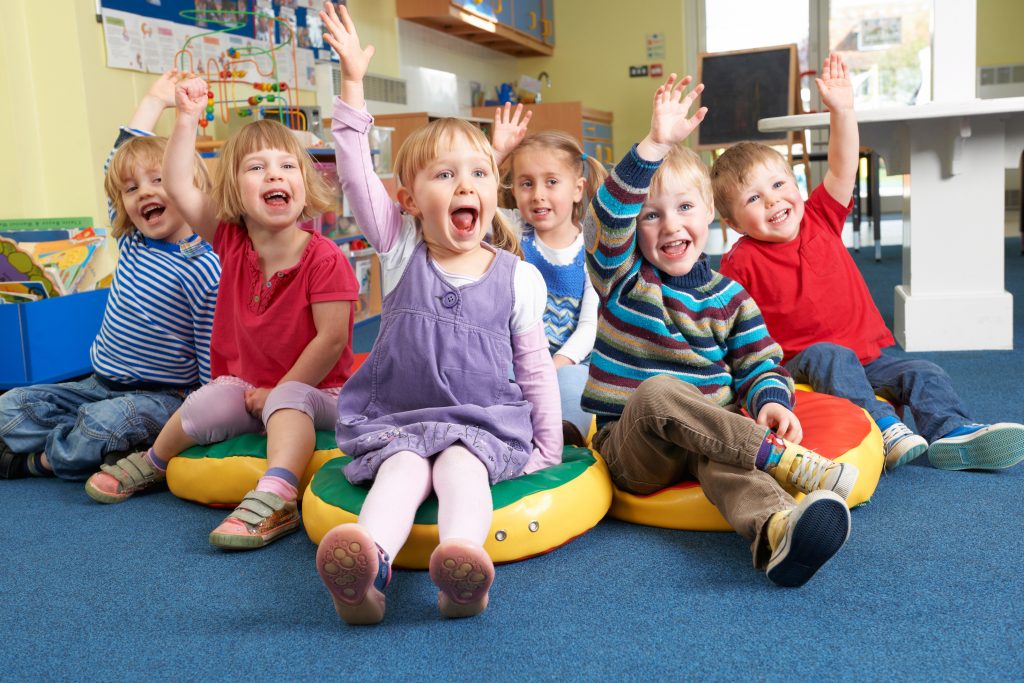 Self-Contained Kindergarten
Tuesday Facilitator: 
Kristin Henry 
Thursday Facilitator: 
Leah Genheimer
Tuition: $300 plus $70 lab fees
Ages 4 – 6
This class will help prepare students for a more focused and formal learning environment. These students will do many of the hands-on science experiments that students in the K – 5 Program are also doing but will spend more time focusing on both academic and social skill-building to help prepare students for the more focused learning environment of the K – 3 Program.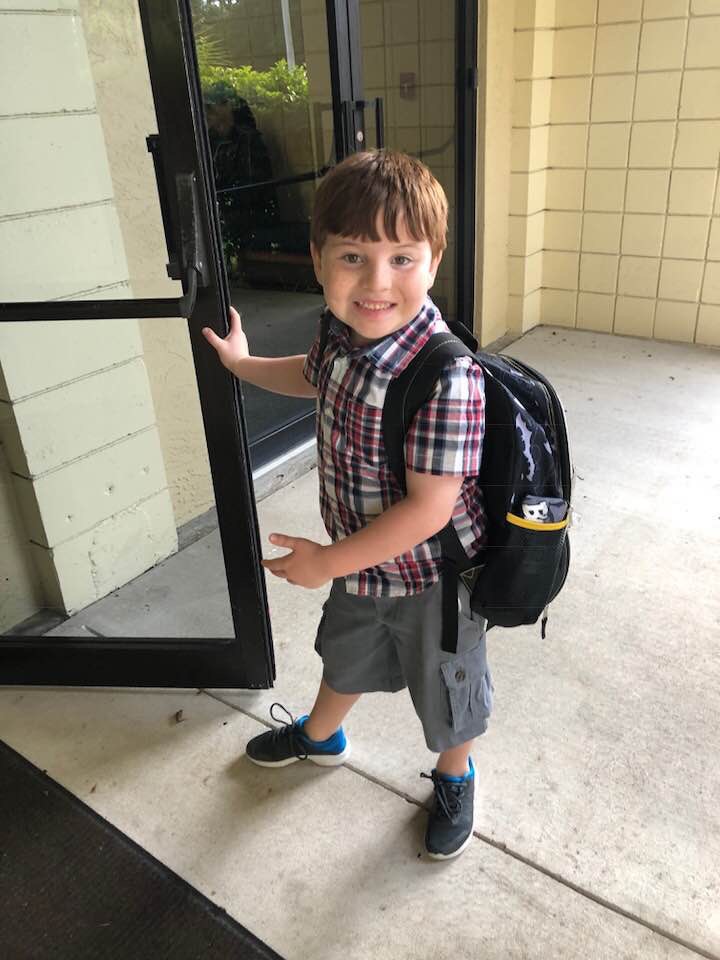 K – 3 Program 
Tuition: $300 plus $70 lab fee per student
Must be at least 5 years old by September 1, 2023
Kindergarten-aged students who meet the age requirement and are ready for a formal academic program can choose this option.
Third graders who are not quite ready for the rigors of the literature program can choose this option.
See below for specific class descriptions: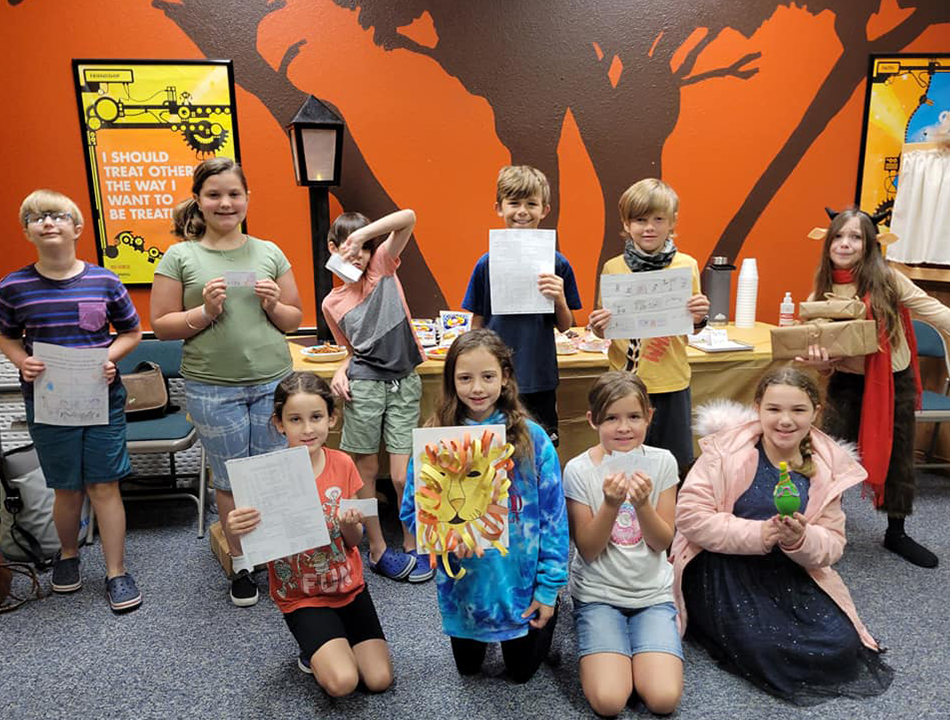 Tuition: $300 plus $70 lab fee per student
Third graders who are stronger readers and ready for a more challenging academic program can choose this option.
See below for specific class descriptions:
K – 3 Science — Apologia Human Anatomy and Physiology
Facilitator: Jamie Sciesinski
All creation is awe-inspiring, but the work of the human body, created in the very image of God, is especially jaw-dropping! This study of anatomy and physiology showcases the intricacy and design of the human body, from DNA and cell creation to the various body systems. The K – 3 class will include hands-on activities and experiments in an interactive learning environment.


Students in this program will use the companion JUNIOR Notebooking Journal.
K – 3 National Parks (Unit Studies with Gather Round)
Tuesday Facilitator: TBA
Tuesday Facilitator: Jacqueline Zdrowoy
Join us on a trip from sea to shining sea as we explore some of the most incredible national parks of North America. We will take deep dives into history, ecology, science, geography and art while focusing on building character and studying the Word. We will even learn some survival skills such as starting fires, identifying plants, following maps, and more!
Students in this program can purchase book at Co-op Orientation.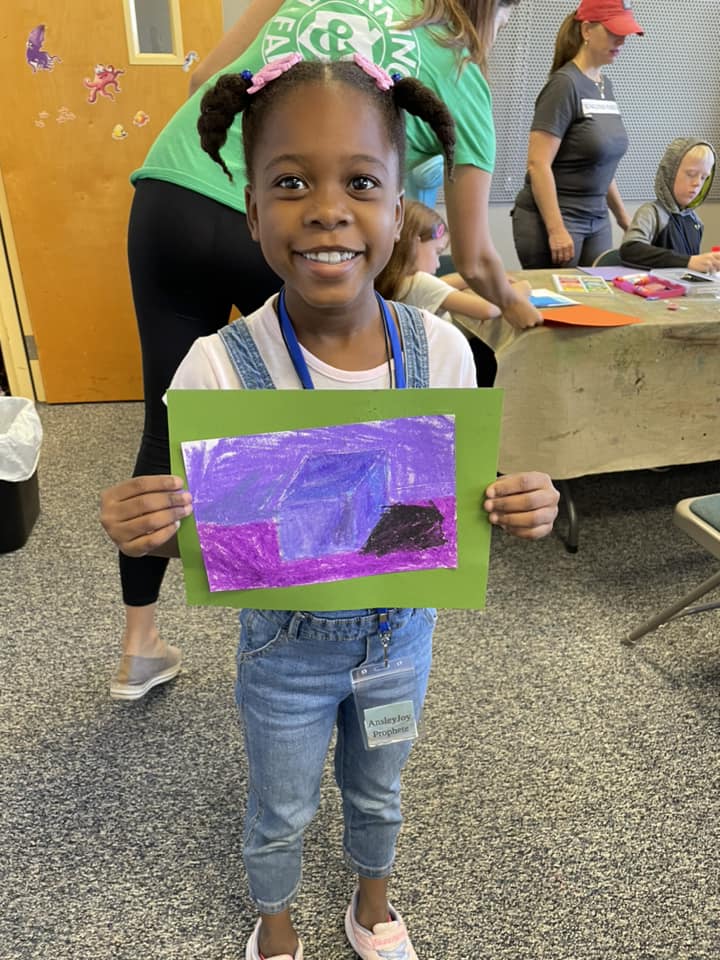 K – 3 Art 
Tuesday Facilitator: Crystal Yannucciello
Thursday Facilitator: Soon Sim Hakes
Explore Art through weekly Artist study and art technique in a fun and fresh hands-on atmosphere.
Projects include a wide range of techniques, media, tools and inspirations!
3 – 5 Science — Apologia Human Anatomy and Physiology
Facilitator: Dionne Chang 
The Junior Co-op grades 3-5 science class will be studying Apologia's Anatomy and Physiology book from their Young Explorers Series for the 2023-2024 school year. We will study the only creation God made in His image, the human body, through dissections, experiments, oral presentations, games, STEM activities, videos, and worksheets.
The Anatomy and Physiology Notebooking Journal will be utilized in weekly homework assignments and subject matter reinforcement.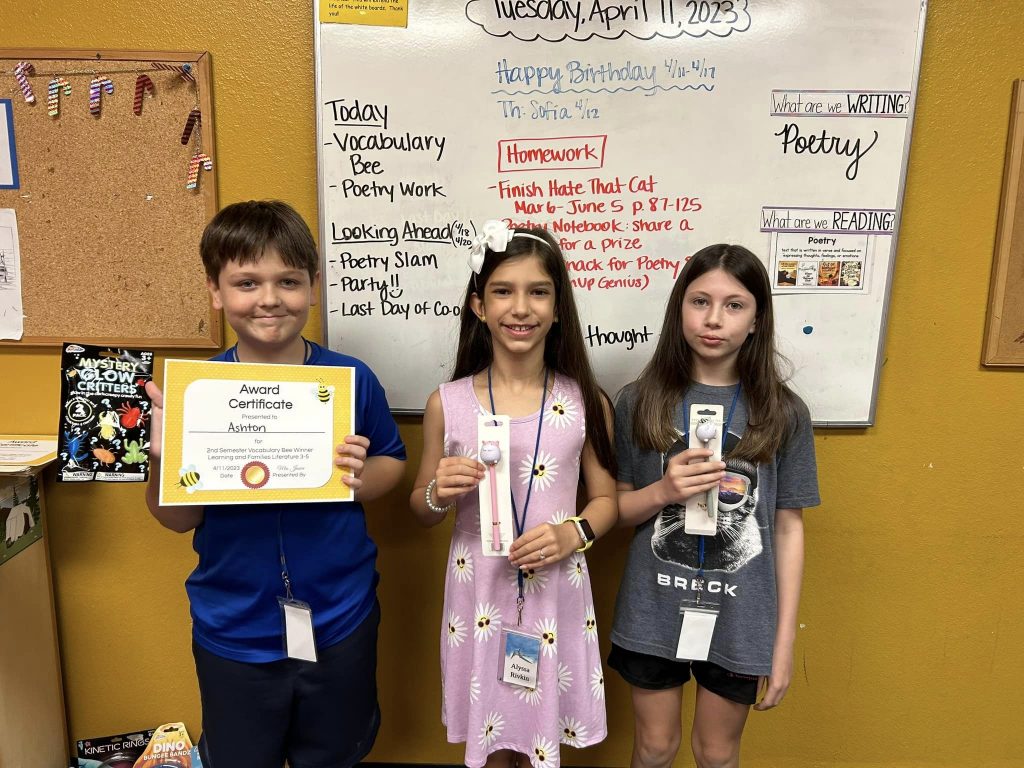 3 – 5 Literature 
Facilitator: Jessica Falde
Exciting literature study of Award-winning books in a book club-style setting with a monthly book to read, discussions, and presentation opportunities. Explore different writing styles with some writing instruction each month.
September: Sarah, Plain and Tall, by Patricia MacLachlan (ISBN: 978-0-06-024101-8)
October: Runaway Ralph, by Beverly Cleary (ISBN 978-0-380-70953-3)
November: Sign of the Beaver, by Elizabeth George Speare (ISBN 978-0-547-57711-1)
December: Biography of Choice
January:  Island of the Blue Dolphins, by Scott O'Dell (ISBN 978-0-547-32861-4)
February: Reader's Choice (choose of the two below)
Shiloh, by Phyllis Reynolds Naylor (ISBN 978-0-689-835827)
Because of Winn Dixie, by Kate DiCamillo (ISBN 0-439-25072-2)
March: The Lion, the Witch and the Wardrobe, by C.S. Lewis (ISBN 0-590-25476-6)
April: National Geographic Book of Animal Poetry, various poets (ISBN 978-1-4263-1009-6)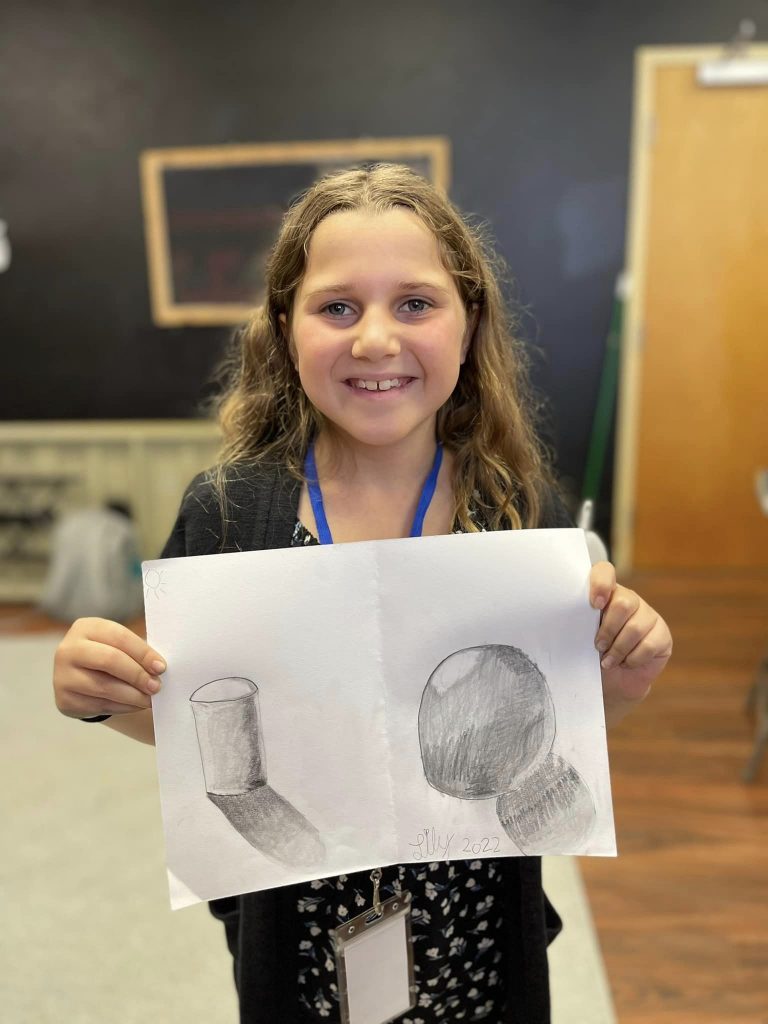 3 – 5 Art 
Facilitator: Olga Halo
Explore Art through weekly Artist study and art technique in a fun and fresh hands-on atmosphere.
Projects include a wide range of techniques, media, tools and inspirations!
ALL SPORTS PHYSICAL EDUCATION WITH FCA
Coach: Phil Dante
Fellowship of Christian Athletes (FCA) is dedicated to making disciples through a strategy of engaging, equipping, and empowering coaches and athletes to know and grow in Christ and lead others to do the same.
We are so very blessed to have one of our own LAF dads, who is also the Community Representative for FCA here in Gulf Coast Florida, offering our community All Sports Physical Education program once again this year.
This Physical Education program focuses on Fitness, Fun, and Friendship to build strong Character and Teamwork in youth. 
There will be a 10-minute FCA Huddle at the end of each class with a fun mixer game and short devotional. Parents are invited to come and participate in this time. 
2023/24 Junior Co-Op Supply List
Below are two supply lists for you for 2023/24 school year. The first is the COMMUNITY SUPPLY LIST. To figure out what you are responsible for purchasing and contributing to the LAF community, find the grade level for each of your children who are registered for Junior Co-op. If you're unsure what grade level to choose, go by where he/she would be placed in public school.
Bring these supplies to the LAF Parent Co-op Orientation on either Sunday, August 6 or Monday, August 7, 2023 (depending on which night your family attends) at Sarasota Alliance Church, 7221 Bee Ridge Rd, Sarasota.
The second list is the PERSONAL SUPPLIES that your student will need to bring on the first day of Co-op. Be sure personal supplies are clearly labeled with your child's name.
SUPPLY LISTS COMING SOON! 
Grade (age) Level
Supplies To Bring
Nursery: Birth -- Age 3 (not in pre-K class)
Pre K

Baby Wipes
One Pack White Card stock

Kindergarteners (in K - 3 Program & Self contained)

Art Paper: Multimedia Canson XL Mixed Media 9 x12, 60 sheets, 98 lb
Gallon Ziplock storage bags
Rubber Cement

1st Grade

Heavy Duty flat plastic plates (not sectioned)
Multimedia Canson XL Mixed Media 9 x12, 60 sheets, 98 lb
Glue Sticks (4 pack)

2nd Grade

Paper Towel
Heavy Duty flat plastic plates (not sectioned)
Art Paper: Canson XL Watercolor 9 x12, 30 sheets, 140 lb
Box of #2 Pencils

3rd Grade

Paper Towel
Art Paper: Canson XL Watercolor 9 x12, 30 sheets, 140 lb
Paper plates
Baby Wipes

4th Grade

Clorox Wipes
Canson XL multimedia oil and acrylic pad 9 x12, 24 sheets, 136 lb
Pack of mini hot glue sticks
Elmer's Glue

5th Grade

Canson XL multimedia oil and acrylic pad 9 x12, 24 sheets, 136 lb
Clear Tape
Rubber Cement
Clorox Wipes
Grade (age) Level
Supplies To Bring
EVERY STUDENT

Back pack
Snack and water bottle

Pre-K Students

2" white 3 ring binder with presentation view (plastic sleeve on outside)
50 Pack Secure Locking Clear Sheet Protectors (fits 8.5 x 11 paper)
Give the following items to facilitator:

At least 5-10 glue sticks
2 pack of crayons (Crayola 8 count primary colors only please)
Pack of Bubble Wands
Sidewalk chalk
Eyelike Stickers: Letters Click Link (Thursday)
3-5 Packs of assorted stickers (Tuesday)

Self-Contained Kindergarten Students

Water
Sweatshirt
Oversized shirt for messy art projects
Apologia Human anatomy and physiology (recommended but not required)

National Parks Students

Books available for purchase at Orientation
You can choose either the Early Reader, or the Early Elementary student book. Digital or physical copy. If you choose digital, you will need to print and bind.
1000 Hours Outside Sketch Book or something similar - Link to Sketch Book
36 Count Colored Pencils
2 Pencils at all Time In Class
4 Pack of Glue Sticks
Bible with Old and New Testament

Literature 3 - 5 Students

1.5" 3-Ring Binder (to share with Science class as well)
Pencils and pens
3 x 5 index cards (lined or unlined)
Storage box or ring

Science (K - 3) Students

Apologia's Young Explorers Series: Exploring Creation with Human Anatomy and Physiology by Jeannie Fulbright and Brooke Ryan, M.D.
Young Explorer Series: Anatomy Junior Notebooking Journal for Exploring Creation with Human Anatomy and Physiology by Jeannie Fulbright

Science (3 - 5) Students

Apologia's Young Explorers Series: Exploring Creation with Human Anatomy and Physiology by Jeannie Fulbright and Brooke Ryan, M.D.
Young Explorer Series: Anatomy Notebooking Journal for Exploring Creation with Human Anatomy and Physiology by Jeannie Fulbright
1 3-Ring binder (shared with literature)
Pencils
Glue
Scissors

Art (K - 5) Students
Performing Arts Opportunities
Junior Co-Op Facilitators